---
The Italian Collection
---
The Italian cabinet collection from Southern All Wood Cabinets features rustic yet elegant all wood glazed maple, with miter raised panel doors and drawers. The elegant hand-rubbed stain finishing process ensures long life, consistency and durability of wood. Drawers feature sturdy, epoxy-coated metal drawer glides for smooth and quiet operation. Cabinet doors have fully concealed, self-closing metal hinges for easy operation.
SAW Cabinets
5909 W 5th St,
Jacksonville, FL 32254
Our Values

Industry-Leading Quality

Unrivaled Service

Competitive Pricing

Same-Day Availability

Easy to Assemble

Highly Customizable

Durable and Reliable

Fully Warrantied
Description
Constructed of solid wood with a durable finish, our cabinets offer a timeless design which adds value when renovating a commercial or residential project.
SAW Cabinets are specifically designed for multi-unit housing and budget minded homeowners. Our cabinets come flat box packaged for easy of on-site delivery & storage. These cabinets are not only easy to assemble but can be customized to suit your specific project need.
All our cabinets come with a full warranty. Click here for more information.
Specs
Wood Species:  Birch
Door Style:  Full Overlay, Recess Center Panel
Drawer Style:  5 Piece Raised Panel Square
Door Frame:   ¾" Solid Birch
Face Frame:    ¾" Solid Birch
Box Construction:  ½" Solid Plywood
Cabinet Interior:  Natural, Birch Veneer
Hinges: Soft Close, Adjustable
Drawer Glides: Full Extension, Under Mount Quiet Close
Shelves: ¾" Plywood with Wood Veneer
Assembly: Dovetail Construction
Italian – Italian Collection
The Italian all wood cabinets from Southern All Wood Cabinets enrich the space in your house with a touch of elegance. The solid wood doors combined with masterful craftsmanship provide a beautiful contemporary feel to your kitchen and/or bathroom and is sure to leave your guests in awe.
Vail – Italian Collection
Our Vail all wood cabinets are known for their close grain texture and off-white color. It portrays a tone between yellow and brown and occasionally contains a light tan or small dark mineral streaks. The detailed craftsmanship is sure to leave a taste of classiness every time you enter the room!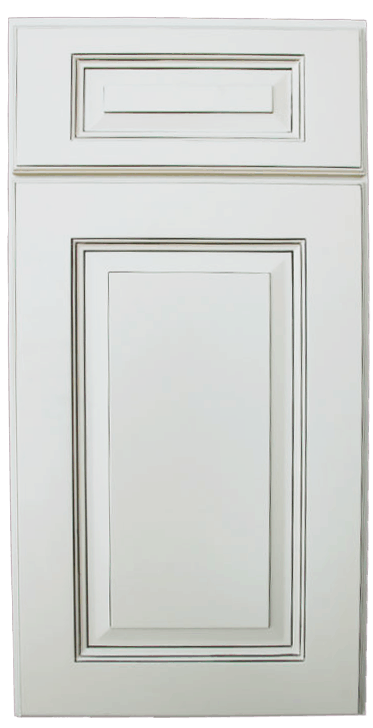 Warranty
Southern All Wood Cabinets, may elect to repair or replace with a functionally equivalent product. Some replacement parts are subject to availability and may differ from original parts received. Return of defective product may be required for a replacement to be issued. Repair parts or replacement parts are at the expense of SAW Cabinets, but customer shall bear all other expenses. These expenses may include, but are not limited to, cost of removal and re-installation of product, labor expenses, shipping, etc.
Just as no two trees are alike, no two pieces of wood are alike. The variation in color and grain pattern in wood adds to its natural beauty and is not considered an imperfection. This warranty does not cover the environmental factors, including but not limited to artificial/natural light, moisture, cleaners, smoke which may cause the darkening and/or variation of color over time. Variation in sizing may occur due to the nature of the cabinets being Ready To Assembly. This is a natural process and can be expected.
Some of the cabinet lines feature a glazed finish which accentuates the door and drawer front profiles. This glaze is hand applied over a stain or paint and may, due to the nature of application, consist of random drips, runs, or may have variations in color and appearance from door to door and cabinet to cabinet. This is not considered a defect and is considered normal with hand applied finishes. It is the nature of wood to expand and contract to varying degrees depending on climate conditions. As a result, cabinet lines with painted surfaces may show fractures in the paint at joints. This is normal and is not considered a defect.
Looking For More Information?